dadagildaeugene
The Dada Movement

The Dada Galaxy 1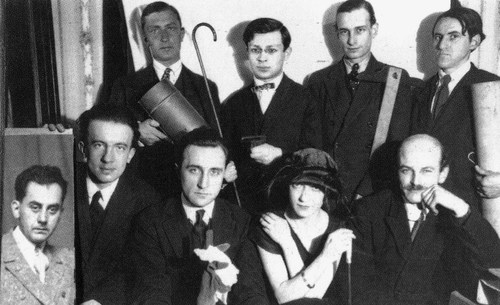 Dadart's field of investigation covers the written or plastic works of many more or less well known personalities who, at one time or another, found themselves pulled into the movement's orbit. We propose an incomplete list of their names and would appreciate your filling in our omissions or correcting our errors. Thank you.
The main actors are presented in bold face type; the secondary roles are in plain type.
A
Albert-Birot, Pierre (April 22, 1876 - July 25, 1967)
Apollinaire, Guillaume (August 26, 1880 -– November 9, 1918)
Aragon, Louis (October 3, 1897 -– December 24, 1982)
Archipenko, A.
Arensberg, Walter Conrad (April 4, 1878 - June 29, 1954)
Arezzo, Maria d'
Arland, Marcel
Arman (Armand Fernandez, known as)
Arnauld, Céline (September 20, 1885 - December 23, 1952)
Arp, Jean (September 16, 1886 -– June 7, 1966)
Artaud, Antonin
Auric, Georges
B
Baader, Johannes (June 22, 1875 -– January 15, 1955)
Baargeld, Johannes Theodor (Grünwald, Alfred Emanuel Ferdinand) (October 9, 1892 - August 16 or 17, 1927)
Ball, Hugo (February 22, 1886 -– September 14, 1927)
Balla, Giacomo
Baron, Jacques
Barzun, Henri-Martin
Bellmer, Hans
Bellows, George
Boccioni, Umberto
Bodenheim, Maxwell
Bonset, I.K. (see Doesburg)
Bortnyick, Sandor
Brancusi, Constantin
Braque, Georges
Brauner, Victor
Breton, André (February 19, 1896 -– September 28, 1966)
Buffet-Picabia, Gabrielle
Bunuel, Luis
C
Calas, Nicolas
Calder, Alexander
Campendonk, Heinrich
Cangiullo, Francesco
Cansinos-Assens, Rafael
Cantarelli, Gino
Carrà, Carlo
Carrington, Leonora
Cendrars, Blaise
César (César Baldaccini, known as)
Chagall, Marc
Char, René
Charchoune, Serge
Cheval, Ferdinand (Postman)
Chirico, Giorgio de
Citroen, Paul
Clair, René
Cocteau, Jean
Copley, William
Cornell, Joseph
Cravan, Arthur (May 22, 1887 - November 1918?)
Crevel, René
Crotti, Jean (April 24, 1878 -– January 30, 1958)
Crotti, Suzanne Duchamp-
D
Dali, Salvator
Delaunay, Robert
Delaunay, Sonia
Delvaux, Paul
Derain, André
Dermée, Paul (born Camille Janssen: April 13 1886 - December 27 1951)
Desnos, Robert
Diaghilev, Sergei
Dix, Otto (1891 - 1969)
Dominguez, Oscar
Dongen, Kees Van
Doucet, Jacques
Dove, Arthur
Dreier, Katherine
Drieu la Rochelle, Pierre
Dubuffet, Jean
Ducasse, Isidore
Duchamp, Marcel (July 28, 1887 -– October 2, 1968)
Duchamp-Villon, Raymond
E
Eastman, Max
Eggeling, Viking
Eliot, T.S.
Éluard, Gala
Éluard, Paul (December 14, 1895 -– November 18, 1952
Ernst, Max (April 2, 1891 - April 1, 1976)
Everling, Germaine
Evola, Julius (May 19, 1898 –- June 11, 1974)
F
Faÿ, Bernard
Fick, Wilhelm
Fiozzi, Aldo
Flake, Otto
Flint, Leslie
Fraenkel, Théodore
Freunlich, Otto
Freytag-Loringhoven, Elsa von (July 12, 1874 –- December 15, 1927)
Friedländer, Salomon (Mynona)
G
Gabo, Naum
Gascoyne, David
Gaudi, Antoni
Giacometti, Alberto
Giacometti, Augusto
Glackens, William
Gleizes, Albert
Goemans, Camille
Goll, Ivan
Golyscheff, Jeff
Gorky, Arshile
Goth, Max
Gottlieb, Adolph
Gris, Juan
Gropius, Walter
Grosz, George (July 26, 1893 -– July 6, 1959)
Grünwald, Matthias (see Baargeld)
Guggenhein, Peggy
H
Hagenbach, Marguerite
Hardekopf, Ferdinand
Hare, David
Hartpence, Alanson
Hartley, Marsden
Hartung, Hans
Hausmann, Raoul (July 12, 1886 -– February 1, 1971)
Haviland, Paul
Heartfield, John (June 19, 1891 –- April 26, 1968)
Heeckeren, Jean Van
Helbig, Walter
Hellens, Frank
Hennings, Emmy (February 17, 1885 -– August 10, 1948)
Herbiet, Georges
Henry, Maurice
Hérold, Jacques
Herzfelde, Wieland (April 11, 1896 - November 23, 1988)
Heuberger, Julius
Hilsum, René
Höch, Hannah (November 1, 1889 - May 31, 1978)
Hoddis, Jacob Van
Hörle, Angelica
Huelsenbeck, Richard (April 23, 1892 - April 30, 1974)
Hugnet, Georges
Hugo, Valentine
I
Iliazd, v. Zdanévitch
J
Jacob, Max
Janco, Marcel (May 24, 1895 -– April 21, 1984)
Janis, Harriet and Sydney
Jarry, Alfred
Jean, Marcel
Johns, Jasper
Jolas, Eugene
Joostens, Paul
Josephson, Matthew
Joyce, James
Jung, Carl Gustav
Jung, Franz
K
Kandinsky, Wassily
Kaprow, Allan
Khlebnikov, Vélimir
Kiesler, Frederick
Kirchner, Ernst Ludwig
Klabund (Alfred Henschke, known as)
Klee, Paul
Kokoschka, Oscar
Kooning, Willem de
Krafft-Ebbing, Richard Von
Kreymborg, Alfred
Kupka, Frank
L
Lacroix, Adon
La Fresnaye, Roger de
Lam, Wilfredo
Larionow, Michel (Mikhaïl Fedorovitch, known as)
Lasker-Schüler, Else
Laurencin, Marie
Laurens, Henri
Lautréamont (Isidore Ducasse, Comte de)
Le Corbusier (Charles Edouard Jeanneret, known as)
Léger, Fernand
Leiris, Michel
Lévy, Julien
Lichtenstein, Roy
Liebknecht, Karl
Limbour, Georges
Lipchitz, Jacques
Lissitsky, El
Loy, Mina (December 27, 1882 – September 25, 1966)
She met the 'poet-boxer' Arthur Cravan, self-styled Dadaist and fugitive from conscription in 1916. Cravan fled to Mexico to avoid the draft; when Loy's divorce from Stephen Haweis was final she followed him, and they married in Mexico City. Here, they lived in poverty, and years later, Loy would write of their destitution.
Once Loy became pregnant, the couple realized they needed to leave Mexico. A few months later, Cravan set sail for Buenos Aires in a small yacht as Loy watched from the beach. He sailed over the horizon, disappeared without a trace, never to be seen again. Their daughter was born April 1919.
Lüthy, Oscar
M
Mabille, Pierre
Macke, August
Maiakowski, Vladimir
Malespine, Emile
Malevitch, Casimir
Malkine, Georges
Manessier, Alfred
Man Ray (August 27, 1890 -– November 18, 1976)
Marc, Franz
Maré, Rolph de
Marin, John
Masson, André
Marinetti, F.T. (December 22, 1876 -– December 2, 1944)
Massot, Pierre de (April 10, 1900 - January 3, 1969)
Matisse, Henri
Matta (Sebastian Echaurren)
Mehring, Walter
Metzinger, Jean
Meyer, Agnes Elizabeth Ernst (1887 - 1970)
Miro, Joan
Modigliani, Amedéo
Moholy-Nagy, Laszlo
Mondrian, Piet
Moreau, Gustave
Morise, Max
Moscardelli, Nicola
Motherwell, Robert
Munch,Edvard
N
Naville, Pierre
Neuhuys, Paul
Newman, Barnett
Norton, Alan
Nougé, Paul
O
Oettingen (Baronne d')
O'Keeffe, Georgia
Oldenburg, Claes
Oppenheim, Méret
Ozenfant, Amédée
P
Paalen, Wolfgang
Pannagi, Ivo
Pansaers, Clément (May 1, 1885 - October 31, 1922)
Paulhan, Jean
Pearlstein, Philip
Penrose, Roland
Péret, Benjamin
Pevsner, Antoine
Picabia, Francis (January 28, 1879 - November 30, 1953)
Picasso, Pablo
Poiret, Paul
Pollock, Jackson
Poulenc, Francis
Pound, Ezra
R
Radiguet, Raymond
Rauschenberg, Robert
Redon, Odilon
Rees, Otto van
Reverdy, Pierre
Ribemont-Dessaignes, Georges (June 19, 1884 - July 9, 1974)
Richter, Hans (April 6, 1888 - February 1, 1976)
Rigaut, Jacques (December 30, 1898 - November 9, 1929)
Rivera, Diego
Roch-Grey (v. Oettingen)
Roché, Henri-Pierre
Rohe, Mies van der
Rothko, Mark
Rousseau, Henri
Roussel, Raymond
Roy, Pierre
Rubiner, Ludwig
Russolo, Luigi
S
Sage, Kay
Saint-John Perse
Saint-Pol-Roux
Salmon, André
Sanborn, Robert Alden
Sanminiatelli, Bino
Satie, Erik
Savinio, Alberto
Schad, Christian (August 21, 1894 - February 25, 1982)
Schamberg, Morton L.
Scheerbart, Paul
Schikelé, René
Schlichter, Rudolf (December 6, 1890 – May 3, 1955)
Schwitters, Kurt (June 20, 1887 - January 8, 1948)
Scutenaire, Louis
Segal, Arthur
Segal, George
Seiwert, Franz W.
Serner, Walter (January 15, 1889 - August 1942)
Sernet, Claude born Ernest Spirt (May 24, 1902 - March 15, 1968)
Seuphor, Michel
Severini, Gino
Smith, David
Soby, James Thrall
Soffici, Ardengo
Soupault, Philippe (August 2, 1897 -– March 12, 1990)
Spoerri, Daniel
Steegemann, Paul
Steichen, Edward
Steinbach, Heim
Stella, Joseph
Stieglitz, Alfred (January 1, 1864 – July 13, 1946)
Stramm, August
Strand, Paul
T
Tanguy, Yves
Tanning, Dorothea
Tatlin, Vladimir
Taueber-Arp, Sophie (January 19, 1889 - January 13, 1943)
Thirion, André
Tinguely, Jean
Torre, Guillermo de
Trouille, Clovis
Tzara, Tristan (April 4 or 16, 1896 -– December 25, 1963)
U
Ungaretti, Giuseppe
V
Vaché, Jacques
Vagts, Alfred
Varèse, Edgar
Velde, Henry van de
Vitrac, Roger
Voronca, Ilarie
W
Walden, Herwarth
Warhol, Andy
Wassilief, Marie
Watjen, Otto Von
Wedekind, Frank
Williams, William Carlos
Wood, Beatrice (March 3, 1893 - March 12, 1998)
Z
Zadkine, Ossip
Zayas, Marius de (March 13, 1880 - January 10, 1961)
Zdanévitch, Ilya
_________
1. Bal à Zurich by Marcel Janco