The Dada Movement
Zurich
Dada is revolt, even... Thus we could, by paraphrasing the title of Marcel Duchamp's famous "Large Glass", condense into a formula exactly what distinguishes this movement from the majority of modern esthetic schools: not satisfied to put into question certain concepts or out-of-date techniques, it is the incarnation of the most intense form of individual and collective subversion that has invaded our century. Breton had felt it coming as early as 1919: Dada's avowed purpose was "to kill art".
The history of the Dada movement is imbricated in the lightning-fast intellectual break-through set off, simultaneously and independently, in various parts of the world by several groups of young artists, writers and philosophers: in just a few years, from 1915 to 1923, it was to shake the esthetic foundations of the period, be they traditional or avant-garde, and set off a revolution which, from surrealism to pop art, would in half a century upset our vision of the world.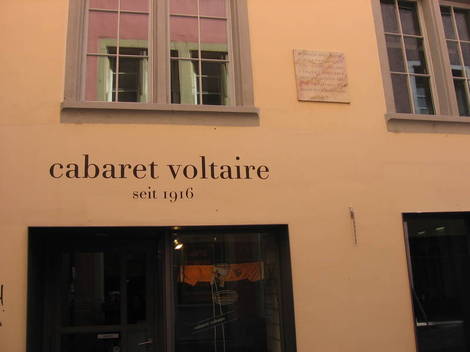 It was in Zurich, towards the end of the year 1915, that this rebellion's distinctive signs appeared clearly. In the wave of refugees of all origins that broke over this peaceful Alemanic city, were to be found a few young men hailing from various European countries and having no other affinity to one another than their hatred of a social order whose failure was attested to by the war itself. In a small room in the "Cabaret Voltaire", opened by Hugo Ball, a deserter from Munich and the Blaue Reiter, we find Germans like Hans Richter and Richard Huelsenbeck, Romanians like Tristan Tzara and Marcel Janco, or Alsacians like Hans Arp. To pass the time during their forced idleness, they organized social evenings in the Cabaret which, harmless at the outset, soon degenerated into systematic provocations against the bourgeoisie.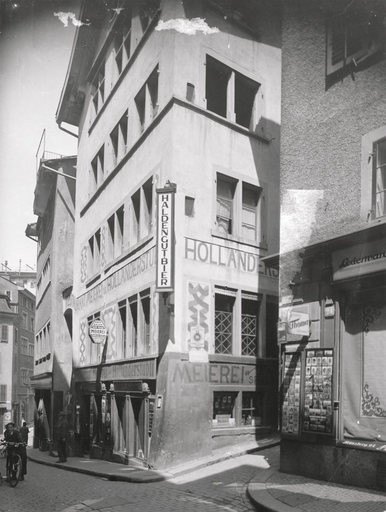 See also Cabaret Voltaire, DADAÏSME - by ernø
Read also I was a Dada tourist by Mark Holsworth
"[...] I wonder if the Swiss have finally understood Dada. Dada, even though it was born in Zurich, was never a local thing. It was invented by foreigners, a disparate bunch of hippies (Hugo Ball), punks (Richard Hulsenbeck), new agers (Hans Arp), goths, and other, perhaps, yet unclassified freaks. And 91 years later the Swiss still don't understand what those crazy foreigners did. At the Kunsthall Zürich, there is almost nothing of Dada: one Arp sculpture, one Marcel Janco work, two Picabias and a couple of works by Méret Oppenheim. [...]"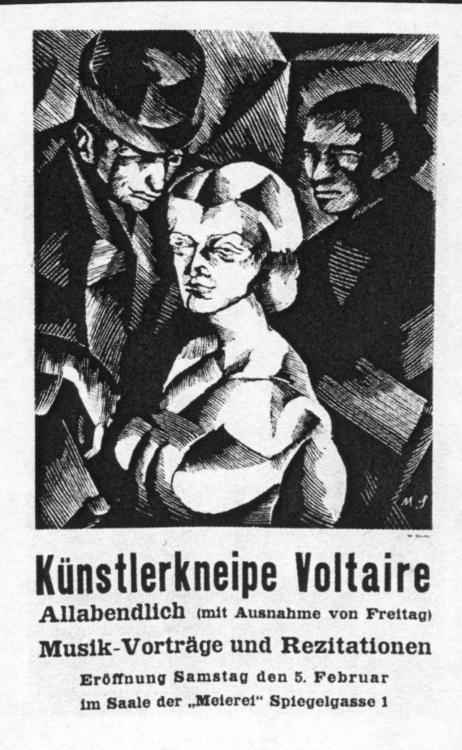 Poster for the opening of the Cabaret Voltaire, 1916, lithograph by Marcel Slodki. Kunsthaus Zurich.
---
Hugo Ball 1886 - 1927
On the evening of June 23, 1916 Ball came to the stage of the Cabaret Voltaire dressed in a cardboard suit and wearing an outrageous headdress. He performed


Hugo Ball and Emmy Hennings
Dirk HuelsTrunk performs "Wolken" by Hugo Ball
Published on January 27 2013
New arrangement of the historical sound poem "Wolken" (Clouds) by Hugo Ball from 1916, using a loop pedal. Except for the title there are no real words in the poem. Performance August 8th, 2012 Sommerwerft-Theater Festival 2012.
Hugo Ball was a founder of the Dada Movement. For Ball sound poetry was also a political statement, not using the corrupted language of journalism and war anymore.
---
Marie Osmond talks about Dada sound poetry
and recites Hugo Ball's Karawane (video)
resizing a nonsensical poem
December 30, 2012
---
Seepferdchen und Flugfische (Seahorses and Flying Fish) by Hugo Ball
Bob Marsh chants the 1916 Dada sound poem by Hugo Ball in a marvellous video interpretation by drummer and videographer Grant Strombeck.
---
Other orbits for DADA: the Romanians of Cabaret Voltaire
---
The word "Dada" itself, purposely devoid of meaning, was discovered by chance at the beginning of 1916 in a dictionary. Exhibitions were organized regrouping the paintings of the dadaists (Otto Van Rees, Viking Eggeling, Augusto Giacometti, Walter Helbig, Oscar Lüthy, Max Oppenheimer, Otto Morach, Arthur Segal...), interspersed with the works of contemporary painters who had influenced most of them.
They were especially interested in abstract art, in impressionism, in Negro art, in art nouveau. The first really original signals could be detected in certain highly individualistic artists: from the beginning, Hans Arp had invented his simple, pure configurations which were abstract by nature and not as a result of research. His collages and reliefs, like the weavings and compositions of his companion Sophie Taeuber, are quite distinct from the contemporary productions of Mondrian and Kandinsky in that they are totally dependent on chance. The same could be said for Marcel Janco's polychrome plasters and for the Schadographies, original photographic proofs obtained in Christian Schad's laboratory by direct contact of the objects upon sensitive paper.
Under the prodding of their impresario, Tzara, and their gouru, Hugo Ball, the Zurich Dada group, reinforced in 1919 by Picabia's arrival, was to make headlines in the Swiss newspapers until 1920.
---
---
Marcel Janco 1895 -– 1984
| | |
| --- | --- |
| | Mask |
Marcel Janco, Painter (1895 - 1984).
b. 1895, Bucharest, Romania.
Immigrated 1941.
Studies: 1915 Switzerland, architecture.
Teaching: 1953 Kibbutz Seminary, Oranim.
Prizes: 1945-46, 1951 Dizengoff Prize; 1958 Histadrut Prize; 1967 Israel Prize for Art. 1982 Worthy of the City of Tel Aviv.
1915 Went to Switzerland and joined Hugo Ball, Jean Arp.
1916 -19 An originator of the Dada movement and participated in all its activities. Painted the famous masks in the style of African masks which were exhibited in the 'Cabaret Voltaire'. Painted abstract reliefs, combining expressionism and cubism.
1921 After a short time in Paris, returned to Bucharest, worked in architecture and was active in the artists' groups.
1948 Was a founder of New Horizons Group.
1952 Participated in the Venice Biennale;
1954 Sao Paulo.
1953 A founder of the Artist's Village, Ein Hod.
Died 1984.



---
Ein Hod, Israel - The Ein Hod Artists' Village is nestled in the foothills of northern Israel, where the Mediterranean Sea lies in the distance and stone houses that blend into nature are hidden among the trees.
Established by Jewish artist Marcel Janco, known as the father of Israeli art, the studio retreat is a utopia for emerging artists.
Janco himself lived and worked in the village. His spirit still reverberates in the nature surrounding Ein Hod.
Janco was born in Bucharest, the capital of Romania. He started drawing when he was about 13 and went to Switzerland to study architecture at the age of 20. He cofounded the revolutionary art movement known as Dadaism. After returning to Romania in 1922, he started working as an architect.
In the 1920s to the 1930s, he was active in Romania at the forefront of Dadaism, an art movement that challenged the existing order and rules of convention, but he moved to Israel (then Mandatory Palestine under Britain) in 1941.
At the time, Nazi Germany was spreading anti-Semitism in Europe, and Janco's work had become a target of discrimination. [...]
Hiromi Uechi in IOL Travel November 26 2014
---
Marcel Janco's Art and Life
When you think of Jewish art the first thing that comes to mind is innovation. Daring, beautiful, undeniably avant-garde, and of course fashionably liberal, the truth is that it makes for great party conversation. If you ever do find yourself in that position, do not forget to mention the often forgotten Marcel Janco, whose work pushed the boundaries of artistic culture and society to its limits.
The fact that there is a museum in Tel Aviv that commemorates his lavish pieces is not enough of a testament not only to his work, but the man himself. Why is this? He was one of the first artists to break through social conventions and take part in the formation of what could be called "real" modern art in Israel- surprisingly not with the purpose of provoking but to inspire.
Janco, born into a Jewish family in Bucharest, was educated by modest means in the practice of what we would consider traditional artistry. In his youth he had the luck to travel throughout Europe which later modelled his theories on modernism, not only within the confines of artistic development but also life itself.
He returned to Bucharest in in his early 20's to work as a graphic designer for a small and modern art newspaper called Simbolul where he met the famous Tristan Tzara. Together they went on to form the head-cracking theories of predisposed nihilism and apathy within the field of art. These theories, or better said mind-numbing ideas, were the launching pad from where the DADA movement later sprang out in Switzerland with the help of many other artists, both of Jewish and non-Jewish backgrounds.
So what is my point? more
by Milad Doroudian
Jewish Jounal – May 9, 2014
---
Who was Marcel Janco?
Marcel Janco was a brilliant Romanian-Israeli artist whose particular focus was on Dadaism, Futurism and Modern Expressionism. His work propelled him to great heights and fame as an artist. Both Romanians and Israelis are proud of him for his international fame.
Yet, despite Janco's amazing artwork he was also extremely interested in promoting constructivism, keeping on with the trend of modernist cultural dynamic, specially during the early 20th century.
Marcel Janco was an individualist; he did not care about anyone or anything to be quite honest. He only cared about his art and the way he made it. He never liked labels which made him that much more appealing to young artists. He was a Dadaist, Expressionist, and Impressionist. more
July 4, 2013
---
Good article by Adrian Yekkes contains a biography of Janco and descriptions of some of his buildings in Bucharest.
August 29, 2012
---
The Prints of Dada's Co-Founder, Marcel Janco
Excellent illustrated biography from That's Inked Up.
July 28, 2012
---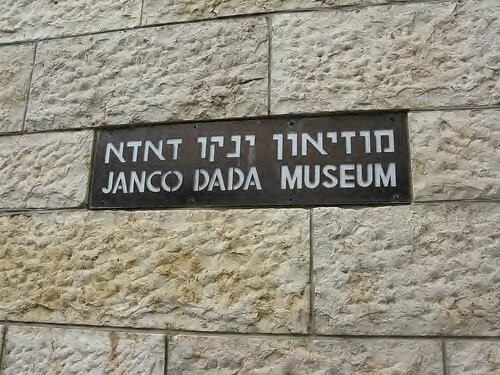 Janco and the Circle
Marcel Janco was one of the founding members of the most audacious art movements of the 20th century, Dadaism. Beginning around World War I, Janco and the Dadaists produced art that scandalized Europe. They put on plays that made no sense. They made sculptures and paintings of each other -- not of dukes or kings or merchants -- that showed weird, dented, multi-colored faces and heads that laughed at the rules of perspective. They declared brashly that they wanted to "clear the tables" of art, to start again from nothing. [...]
Marcel Janco painted "Honi the Circle Drawer" and "Noah" in the late 1950s, not in a Parisian garret or an absinthe bar in Prague, but in the hills of Israel, almost exactly where Honi himself had stood. Janco had left Europe, its art and then its shores, and had come to pre-state Israel as European anti-Semitism was building to its pre-WWII crescendo.
There, in the Galilee, Janco stumbled across a little cleft of land squeezed into the hills of the Carmel near Haifa, and decided he would stay there and bring other artists of Israel to work in a place called Ein Hod -- a spring of splendor -- which is still today Israel's most famous artists' village.
Janco went on to found multiple waves of new Israeli art, including the pivotal Ofakim Hadashim (New Horizons) movement. He came to a new place and saw that it needed a new art, just as it needed rain. He drew a circle in the sand and stood in it, perhaps calling out to "Abba" to bring what was needed. Abba, it seems, listened.
By Big Eyes from The Jerusalem Post, January 5, 2012
---
The Spielberg Jewish Film Archive - Ein Hod
Video about Marcel Janco's artist village in 1959.
---
Dada mural discovered in Israel
Restorer Eli Shaltiel has uncovered a mural painted over by Romanian-Israeli Dada artist Marcel Janco more than 50 years ago on a wall in his studio at the artists' village of Ein Hod that he had founded in 1953 in northern Israel.
Shaltiel wasn't relying on luck for his discovery, but he can be credited with diligence. The nearby Janco Dada Museum had found old photographs that showed murals on several walls of the studio, so he knew there should be something there somewhere. Starting with a speck that led to a line, Shaltiel kept peeling back the layers of paint and plaster until he had his mural.
For two years since sighting the photographs, curator of the Janco Dada Museum Raya Zommer-Tal headed a team of restorers that wasn't always optimistic of finding any art treasures. "Actually we expected that there [wouldn't] be any signs of the murals," she said, "because they were made 50 years ago and the walls were painted dozens of times since. So it's really a miracle that we could find traces of those wonderful murals."
A witness to atrocities in the pogroms in Romania during World War II, Janco turned militant and found a home in Tel Aviv where he quickly became a leader and champion of Zionist arts and crafts in what was then British Palestine, before Israel became an independent state in 1948 following the Arab-Israeli War.
The new nation turned to the multiple prize-winning artist-teacher to prospect the regions about Mount Carmel to delimit a national park. It was this work that brought him to the village of Ein Hod, deserted by Palestinian Arabs in their exodus during the war.
Janco obtained a lease on the place and rebuilt it on weekends with other Israeli artists. He became the site's first mayor, where he created the protocols for a utopian society, art colony and tourist attraction.
Less and less a Dadaist, Janco became more of an abstract painter who had shows in Tel Aviv, Milan, Paris and Venice in the 1950s and 60s. He won the Israel Prize in 1967 for his work as a painter and remained a leading figure in Israeli arts and culture right up until his death in 1984.
Marcel Janco - Suite n° 2 bach in E minor adagio
Marcel Janco in Israel
---
Hans Arp 1886 -– 1966
Biography - Works - Quotes - Photos - Exhibitions - Publications
---
Hans Arp - Biography and Selected Exhibitions

Jean (Hans) Arp was a sculptor, painter, poet and a founding member of the Dada movement. He was born on September 16, 1886 in Strasbourg, France. As a child he was very interested in drawing but not in school: because of his poor performance there, his father was forced to hire a tutor. In 1900, he joined the Strasbourg School of Arts and Crafts and later, in 1904, he joined the Academy of Fine Arts in Weimar. Arp continued his studies at the Académie Julian in Paris until 1909, when he returned to Switzerland. He traveled to Munich and back to Paris, a city where he met important artists such as Picasso and Gauguin.
The outbreak of World War I forced Arp to move to Zurich, where he collaborated with the initial development of the Dada movement. After the war, he moved to Cologne, Germany, taking Dada with him. In 1921 he married his fellow artist Sophie Taeuber.
During the 20's, Arp worked with several leading publications, joined the Surrealist movement and established his studio in Meudon, France. In the early 30's he started to sculpt. World War II forced him to return to Switzerland. In 1949 his wife Sophie died, plunging him into depression. The end of the war allowed him to move to Meudon again.
The 50's represented a few years of great success for Arp, during which interest in his work grew unexpectedly. In 1953 he created a mural at the UNESCO building in Paris, as well as two works for the Ciudad Universitaria de Caracas. In 1954 he won the Grand Prize for sculpture at the Venice Biennale. Later, in 1962, the National Museum of Modern Art in Paris gave him a retrospective. Four years later, on June 7, 1966, he died in Basel, Switzerland.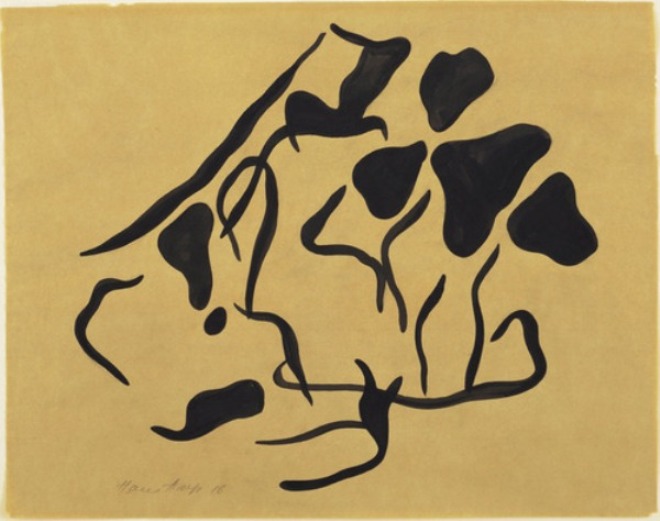 Arp: Automatic Drawing
---
Video on YouTube
---
Sophie Taeuber-Arp 1889 - 1943
Video on YouTube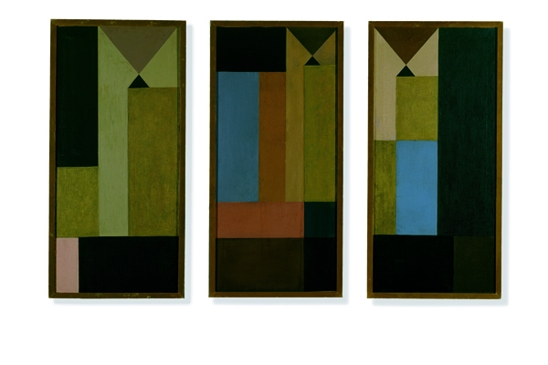 Sophie Taueber-Arp - Untitled - 1918
---

Hans Richter by Man Ray

Dada Head (Variation Arp)
Ghosts Before Breakfast (1927)
---